Equipment Reservation | Presenter Schedule | Conferences | Emergency | Lab Safety | MSDS
Please login to Google Calendar for reserving any equipment in the BioMINT Lab. For the benefit of others please do not reserve more than 3 hours together.
RULES:
We divide up the experimental times in the following manner.

M, W, F - 8am-12pm, 12pm-3pm, 3pm-6pm
T, Th - 8am-10am, 10am-12pm, 12pm-3pm, 3pm-6pm

The calendar has now been changed so that each microscope (upright, inverted and PCR inverted) has its own calendar. Please be aware of this when you make your reservations.
Since the calendar has been divided up based on each microscope, each lab member is now able to have two open reservations at one time as long as they are on two different microscopes. This rule only applies to the hours between 8am-6pm, while the hours between 6pm-8am and the weekends are not restricted to these limitations.
We will implement a 30 minute - no show policy for all equipment reservations. If you have reserved equipment and do not show up within the first 30 minutes of the reservation, you forfeit your reservation.
One of the reasons we created several 2 hour time slots on Tuesday and Thursday mornings was because there are several members in the lab who only require 2 hours for experiments. However, if these slots are empty after 10:30 PM the night before, other lab members are free to convert these time slots into 3- or 4-hours reservations if they please.
The Biomint Knowledge Base is a collection of useful information such as experiment SOPs, equipment user guides, experimental tables, and more for BioMiNT lab members. Login/passwords are required. Please ask senior lab members for access.
Lab Meeting Presenter Schedule
| | | | |
| --- | --- | --- | --- |
| Date | Extended talk | Subgroups | Short update |
| 06/28 | Derek | Droplets | TBD |
| 07/05 | David | ALCATs | TBD |
| 07/12 | Mindy | DEP/Artificial Cells | TBD |
| 07/26 | Maulik | DEP/Artificial Cells | TBD |
| 08/02 | Nick | ALCATs | TBD |
| 08/09 | Crystal | Droplets | TBD |
| 08/16 | Roger | Bubbles | TBD |
| 08/23 | Arlene | DEP/Artificial Cells | TBD |
| 08/30 | Apurva | ALCATs | TBD |
| 09/06 | Yuka | Droplets | TBD |
| 09/13 | Steven | Bubbles | TBD |
| 09/20 | Sandra | TBN | TBD |
| | |
| --- | --- |
| Date | Description |
| October 2-6, 2011 | uTAS 2011 SEATTLE |
Health & Safety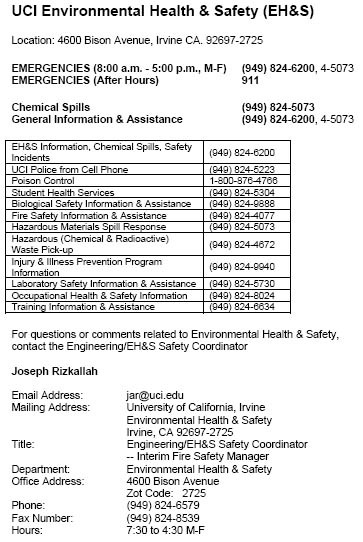 UC MSDS | BioMiNT MSDS (Updated January 2010)